Last night and into early this morning the Texas Primary Run-Off Election results came to fruition.  As we have previously discussed, these elections are vital in determining who will be in Austin come January.  In Texas, many elections are decided in the primaries.  The primary run-offs were the last elections to be held before the General Elections in November.
Statewide, things went pretty much as expected.  The most-watched race of the night was that for Attorney General with incumbent Ken Paxton v George P. Bush.  Paxton won easily.  In a close fight over Railroad Commissioner, incumbent Wayne Christian also won. State Senator Dawn Buckingham won her first run at a statewide office in her Land Commissioner campaign.
As far as the Legislative Races, you can view all the detailed results below. House Public Health Chairwoman, Republican Stephanie Klick – survived a five person primary – and will return to the next legislature.  This primary run-off was one of the most highly watched House races in the state. The number of non-returning House members equals 26 but there are 28 new freshmen (under the new maps). A whopping 63 members of the 88th Legislature have no major party general election.
As for endorsements, the leaders of the Republican party were not all on the same page.
Speaker Phelan had a good night. He won 70% of the races in which he endorsed a candidate and up against Defend Texas Liberty (DTL) which only won 50% of it's run-offs. Still, those 4 freshmen backed by DTL are likely to give Speaker Phelan some headaches. Carrie Isaac was video taped saying she would oust Speaker Phelan. And Leo-Wilson, Schatzline and Dorazio will add more numbers to the Freedom Caucus, but if we are counting correctly, they are losing more membership than they are gaining.
Governor Abbott had almost as good of a night as Speaker Phelan with 67% wins of his endorsed candidates compared to Sen. Cruz who decided to get involved with legislatie races and came out with a 56%-win ratio. But where Abbott and Cruz went head to head with endorsements of opposing candidates, they came out exactly even with Abbott winning 3 (Harris, Rogers and Jolly) and Cruz winning 3 (Troxclair, Leo-Wilson, and Isaac).
Lt. Gov. Patrick and Sen.-Elect Middleton came out the best this evening with 100% wins for their 3 and 4 endorsements, respectively.
As promised, these are the winners and losers from last night: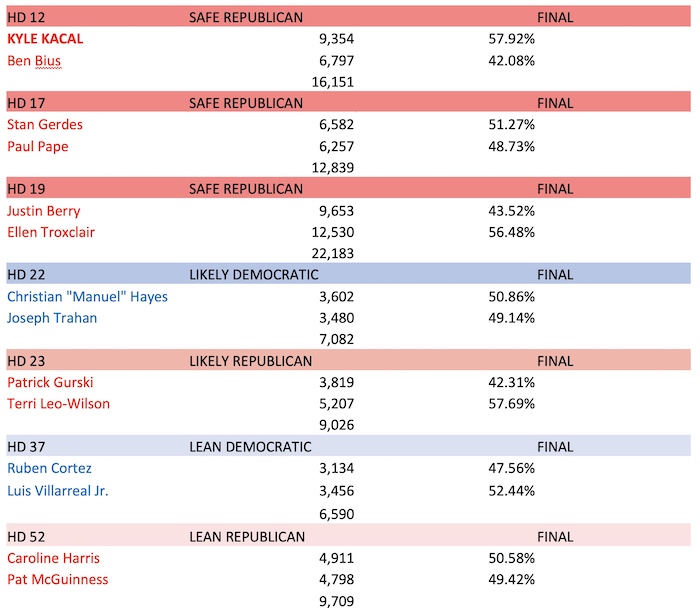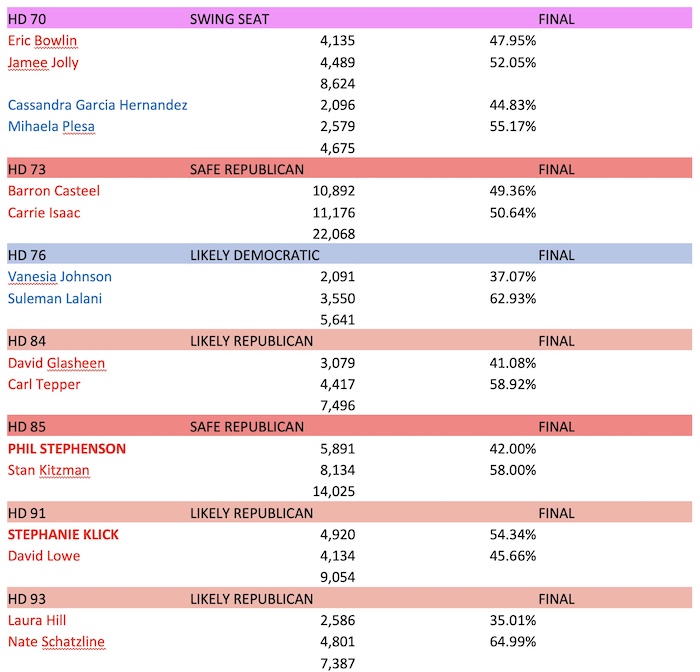 On a personal note, before we close out this newsletter about yesterday's election results, we would be remiss to not mention the tragedy that occurred yesterday in Uvalde.  The school shooting and loss of life is breaking hearts not just in Texas, but all across America.  At LLK LLC we pray for those families and their entire community. 
Until next time…
Lara Laneri Keel
LLK, LLC